Turkey Tail Capsules (High Strength)
Regular price
Sale price
£23.99 GBP
Unit price
per
Sale
Sold out
Trametes versicolor, commonly known as Turkey Tail or Coriolus versicolor, is a remarkable polypore mushroom that thrives across the globe. Enriched with a variety of potent antioxidants and compounds, Turkey Tail has earned its reputation as a formidable supporter of the immune system and recovery process.

Ingredients
Turkey tail mushroom (

Trametes versicolor

)

 extract powder
High strength:
- 540mg of extract per capsule
- Contains 20% Beta Glucan
- It has been extracted with hot water to draw out beneficial compounds 
- C apsules are made from Pullulan derived from Tapioca
Key Benefits of Turkey Tail:
- 🍄 Boost Your Immune System: Our Turkey Tail capsules are specifically formulated to bolster your body's natural defences, helping you stay resilient against environmental challenges.
- 🌿 100% natural & vegan: At Mushies, we believe in providing you with clean and pure mushroom extracts. Our Turkey Tail extract is grown traditionally and organically on hardwood sticks, making it 100% vegan-friendly.
- 🌊 Hot water extraction: We employ a hot water extraction method to draw out the bio-active compounds effectively, ensuring that you receive the full benefits of this incredible mushroom.
- 🇬🇧 Made in the UK - Top-notch Quality: Manufactured in the UK under stringent GMP standards, our Turkey Tail Mushroom Extract guarantees the highest quality possible.
- ❌ No fillers, binders, or additives: We are committed to providing you with pure goodness. Our product contains no fillers, binders, or additives - just the natural potency of Turkey Tail.
Why Choose Mushies?
Our dedication to your well-being is reflected in our products. We source the finest ingredients and adhere to strict quality standards to ensure you receive the best supplements for your health journey.
Size: 120 Capsule Pouch 
Disclaimer:
These statements have not been evaluated by any official health authority. 
All products and information on this website are provided for informational purposes only and are not intended to diagnose, treat, cure or prevent any illness or disease.
Customer reviews on our site are provided for informational purposes only and are not intended to diagnose, treat, cure, or prevent any illness or disease.
Share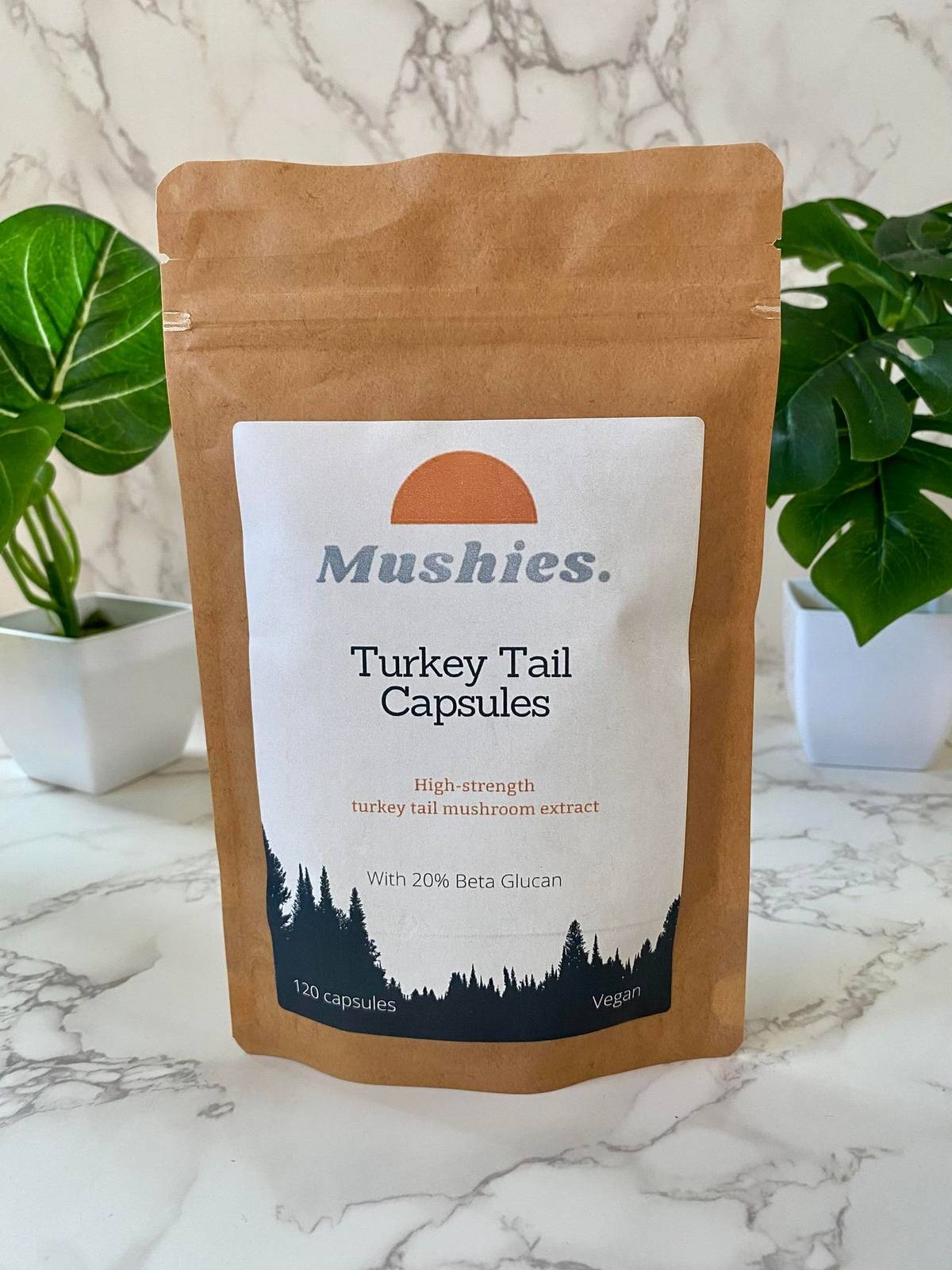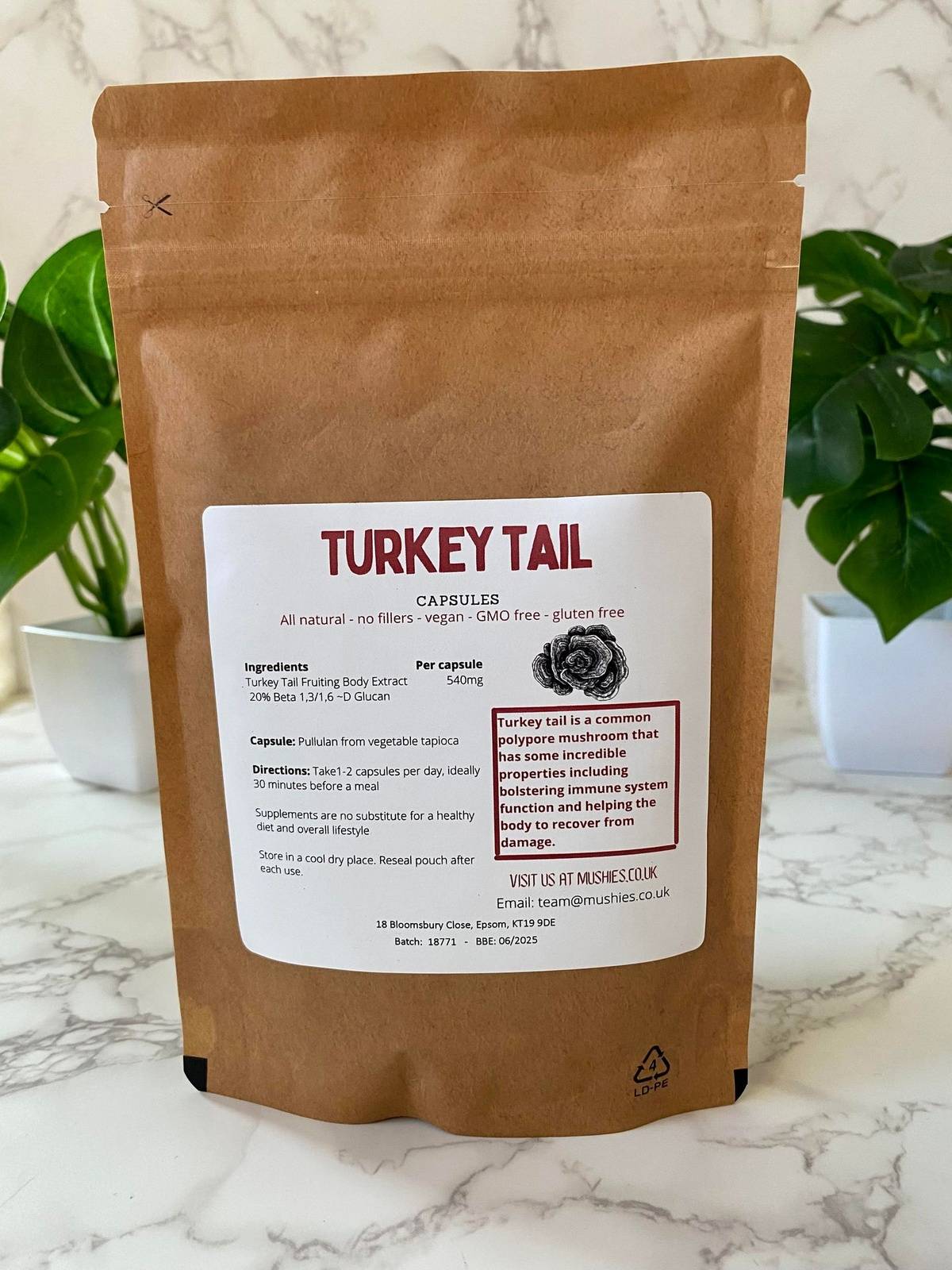 Too early to say
Just on round 2 of chemo, but only been taking turkey tail for a week so hard to say reslly
Coldsores stopped!
This has been life changing for me! I have had cold sores since I was 15 (now 38). I would have maybe 2 a year. 9 years ago I went through a stressful time and it resulted in my body being unable to fight the cold sore virus anymore. I would have upto 7 at a time. My GP prescribed antiviral medication (Acyclovir tablets) which I have been taking for 9 years! I have taken treatment breaks over the years but each time I have come out in numerous cold sores. I have been to my GP a couple of times to have blood tests done to see if there was anything else going on that would be affecting my immune system. Everything came back clear.
I started taking Lions Mane around 4 months ago for brain health and came across Turkey Tail. I decided to give it a go to see if it would boost my immune system. I had no intention of stopping the antivirals so soon but I ran out of meds and couldn't get any from the pharmacy straight away. I started to freak out but to my surprise I didn't come out in coldsores! I had been taking Turkey Tail for a month at that point. I have now been 6 weeks without the antivirals and not even had a tingle of a cold sore. I can't say if it is the Lions Mane or the Turkey Tail but neither will be leaving my daily supplement regime! The addition of both is the only change I have made.
I am over the moon happy that I have finally got away from prescription medication!
Turkey Tail Capsules (High Strength)
Great service and great capsules
Great customer service and Very pleased with the capsules will be ordering again for sure